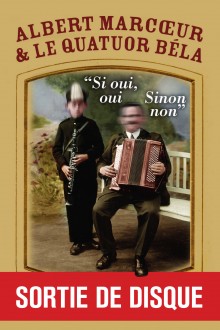 ---
For 10 years we love Albert Marcoeur. We play with him, we play his music at the end of our chamber music concerts, we listen to his records and for every episode, zany or tragic of our lives, always comes to smile one of his tasty songs .. Finally, In a cloud of grace, we hold this record (illustrated by the famous Plonk & Replonk!!!) in our hands and we are happy, so furiously happy, to invite you to taste every note!
You can buy it here for example
In the meantime, here are the Deux Petits Vieux ..
Les Valises à Roulettes

Quatuor Béla & Albert Marcoeur

4:05

Entretien

Quatuor Béla & Albert Marcoeur

4:54

Les deux petits vieux

Si oui, oui. Sinon non. Albert Marcoeur & le Quatuor Béla

3:28
Good listening, see you soon!