Quintet for shadows and cello

" For more than a thousand years sad Ophelia
Has passed, a white phantom, down the long black river"
A.Rimbaud
Quatuor Béla invites stunning cellist Noémi Boutin for a tenebrous creation.
French-Argentinian composer Daniel D'Adamo writes to sublime and crepuscular Franz Schubert' String Quintet a preamble for the five musicians. The timeless theme of this new piece is the young woman, mortally attracted to water, such as Shakespeare's Ophelia or ancient Persephone.
Quatuor Béla's musicians, hidden and invisible to the public, are the dormant water, dangerous mirror of the young woman's beauty.
Noémi Boutin, alone on stage, is the young woman, enebriated victim of her own reflection and flow's fatal snares.
Daniel D'Adamo's accomplished art of writing serves the seductive and lethal sounds of this instrumental melodrama.
Program
Daniel D'ADAMO
Sur vestiges, string quintet
Ordered by La Belle Saison
With the support of ProQuartet – European Center of Chamber Music
Franz SCHUBERT
String quintet in C major

---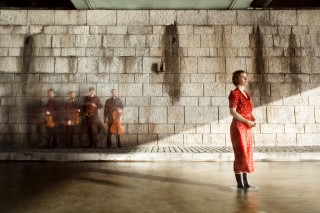 Artistic team
Le Quatuor Béla
Julien Dieudegard & Frédéric Aurier, violins
Julian Boutin, viola
Luc Dedreuil, cello
& Noémi Boutin, cello

Hervé Frichet, picture, scenography, lighting design
Éloïse Simonis, designer
Production
Producted by La Belle Saison,
delegated production to Association L'Oreille droite – Quatuor Béa
coproduction Théâtre de Coulommiers, Cie Frotter | Frapper,
with the support of Région Auvergne-Rhône-Alpes, ProQuartet, SPEDIDAM, the reception of Lyon CNSMD and the host/artists-in-residence of Cube-Studio Théâtre – Hérisson.
Premiere
Octobre 2018
Médias
Venues